Garlic Mashed Cauliflower with Kale
Garlic Mashed Cauliflower with Kale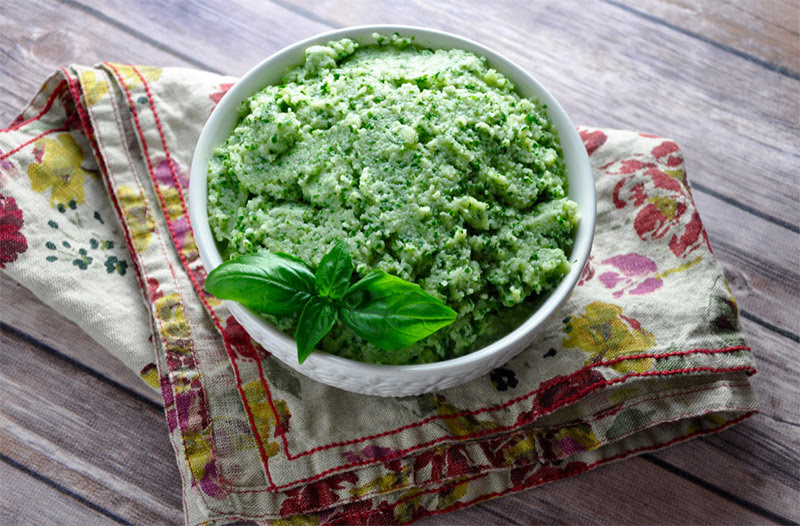 If you love mashed potatoes then this recipe is for you! It's got all the flavor and the right consistency without the regrettable carbs and fat that end up around your waist in unwanted pounds.
This recipe is a really lightened up replacement for mashed potatoes, with the enhanced flavors of garlic and kale. It's incredibly quick and simple to throw this side dish together, and there are many ways in which the flavor could be tweaked and adjusted to your liking.
What you need
Serves 6
1 head cauliflower
1 bunch curly kale
4 cloves garlic, smashed
3 Tablespoons coconut cream
1 Tablespoon coconut oil
¼ teaspoon sea salt
black pepper to taste
2 Tablespoons chives, snipped
Instructions
1. Bring a large pot of salted water to boil.
2. Separate the cauliflower into florets and chop the stem. Stem the kale and chop the leaves.
3. Add the cauliflower and garlic to the boiling water for 8 minutes. Stir in the kale and continue to boil for 5 minutes. Drain thoroughly.
4. Place the drained cauliflower, kale and garlic in a food processor along with the remaining ingredients. Pulse until a creamy consistency is reached. Taste for salt and add more as needed. Enjoy
Nutrition
One serving equals 76 calories, 5g fat, 8g carbohydrate, 3g sugar, 112mg sodium, 3g fiber, and 3g protein.
I hope that you get a chance to give this recipe a try this week. Remember that I'm only a call or email away to assist you in all things fitness. And if you are not yet one of my prized clients then call or email me now to set up your first workout – I'd love to help you achieve your best body ever!
Talk Soon,
Let Us Be the Best Part of Your Day….Every Day!
Dusty Kinley
(253) 565-1965
https://innovativefitnessclubs.com/
"Innovative Dusty" on Facebook for daily truth and inspiration!​