Real Food Mac and Cheese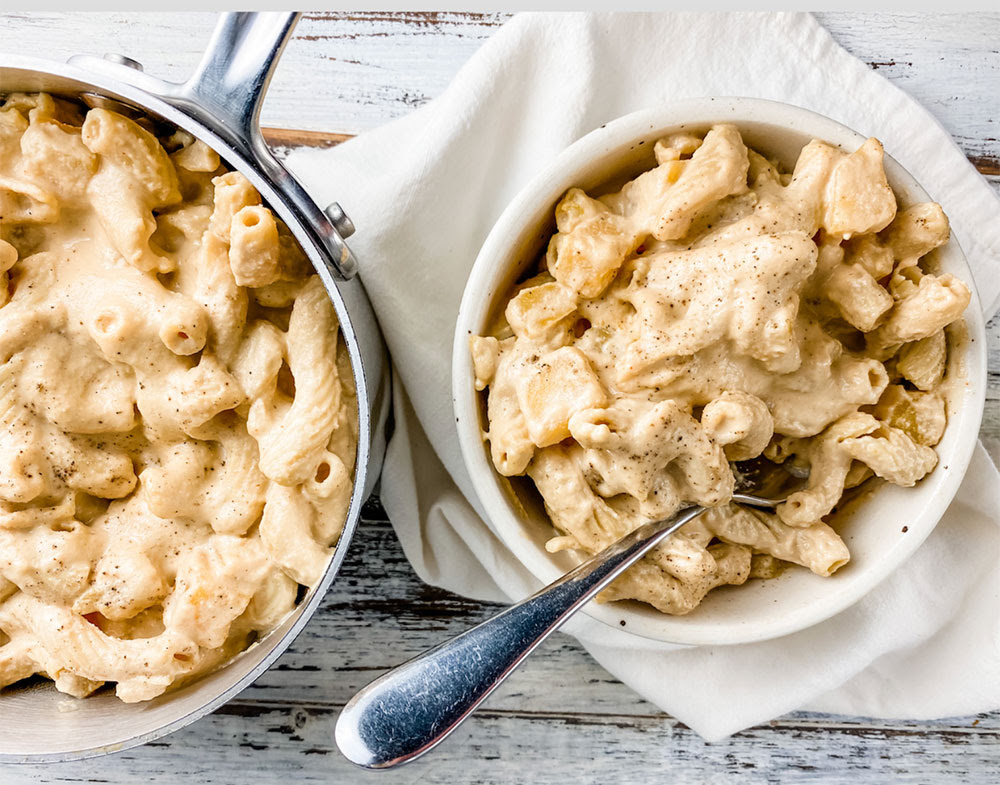 Here's a healthy take on Mac and Cheese that you and your whole family will love. What makes it healthy? It's dairy-free, made with chickpea noodles and contains chunks of real butternut squash. This turns a meal that is traditionally full of simple carbs and fat into one that has plenty of protein and fiber to help support your fitness and fat loss goals. Enjoy!
Courtesy of RealHealthyRecipes.com
What you need
Servings: 8
1 cup raw cashews
1 (8oz) box Banza Cavatappi (made from chickpeas)
2 cups Butternut Squash, peeled, seeded and cubed
1 teaspoon coconut oil​
1 yellow onion, chopped
1 teaspoon minced garlic
1 tablespoon coconut flour​
1½ cups almond milk (or other nondairy milk)
½ cup nutritional yeast​
½ teaspoon sweet paprika​
1½ teaspoons sea salt
1 teaspoon lemon juice
Instructions
1.Place the cashews a bowl and fill with hot water. Cover and set aside for 10 minutes.
2. Bring 8 cups of salted water to a rolling boil. Add the pasta and butternut squash cubes and stir immediately. Cook for 10 minutes, until the desired firmness has been reached in both the pasta and the butternut squash. Strain and rinse with water. Set aside.
3. Heat the coconut oil in a medium-sized saucepan over medium heat. Add the garlic and onion and sauté for 5 minutes, until soft. Add the coconut flour and sauté until golden.
4. Put the onion mixture, the drained cashews, and the remaining ingredients in a food processor and blend until smooth.
5. Pour the sauce back into the saucepan and cook over low heat, stirring frequently, until warmed and thickened. Add the drained, cooked pasta and butternut squash to the pan, stir well and serve. Enjoy!
Nutrition
One serving equals: 274 calories, 15g fat, 32g carbohydrate, 9g fiber, 6g sugar and 16g protein.