Red Bean and Lentil Casserole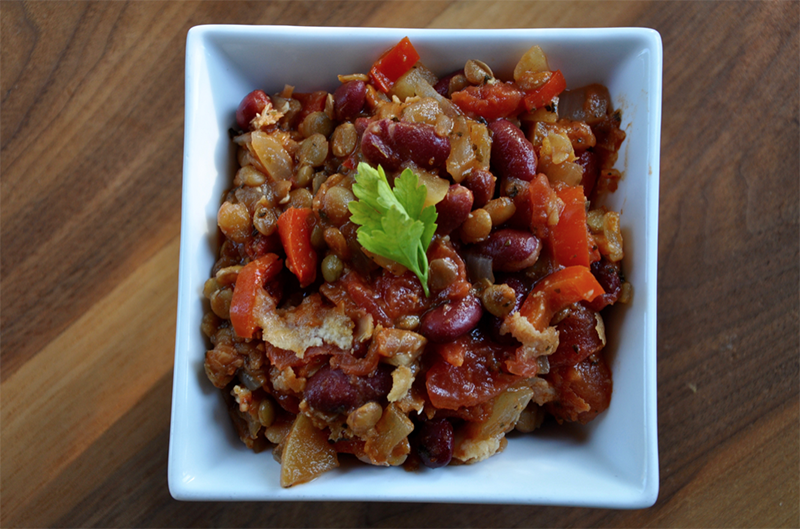 Is there anything better than a homemade casserole, hot from the oven? The comforting aroma and the heart-warming enjoyment of that first, delicious bite stay with you for days to come.
This fiber-filled casserole is simple to make, contains many vital nutrients and delivers a wonderful flavor that only gets better when enjoyed the next day for lunch. It's a fantastic way to learn how to make and enjoy sprouted lentils – which are highly nutritious. Enjoy!
Courtesy of RealHealthyRecipes.com
What you need
Servings: 8
1 teaspoon olive oil
1 large onion, peeled and finely chopped
1 teaspoon garlic, peeled and finely chopped
1 red bell pepper, seeded and chopped
½ cup dry sprouted lentils, such as Puy or green
2 ½ cups low-sodium, organic vegetable broth
1 large cooking apple such as Granny Smith or Macintosh, peeled, cored, and chopped
2 teaspoons dried basil
¼ cup white wine
1 (14oz) can chopped tomatoes
1 (15oz) can kidney beans, drained and rinsed
½ cup shaved Parmesan cheese
Salt and pepper to taste
Grated parmesan cheese (optional)
Instructions
1. Preheat the oven to 350ºF. Lightly grease a 9×13 casserole pan with olive oil.
2. Heat the olive oil gently in a large saucepan, add onion and garlic, and cook for five minutes until the onions are translucent.
3. Add lentils and stir, then add vegetable stock. Bring to a boil, then reduce heat and simmer for 25 minutes.
4. Add the peppers, basil, apple, white-wine, shaved Parmesan cheese, and canned tomatoes and mix well.
5. Transfer the mixture to and sprinkle grated Parmesan cheese on top. Cook in oven for 30 minutes.
6. Serve immediately, or freeze remaining portions in individual servings.
Nutrition
One serving equals: 260 calories, 3g fat, 335mg sodium, 42g carbohydrate, 10g fiber, and 18g protein
I hope that you get a chance to give this recipe a try this week. Remember that I'm only a call or email away to assist you in all things fitness. And if you are not yet one of my prized clients then call or email me now to set up your first workout – I'd love to help you achieve your best body ever!
Talk Soon,
Let Us Be the Best Part of Your Day….Every Day!
Dusty Kinley
(253) 565-1965
https://innovativefitnessclubs.com/
"Innovative Dusty" on Facebook for daily truth and inspiration!​
---
Share this delicious healthy recipe by forwarding it to your friends and family! Click Here to share it on Facebook