Smoked Salmon and Dill Dip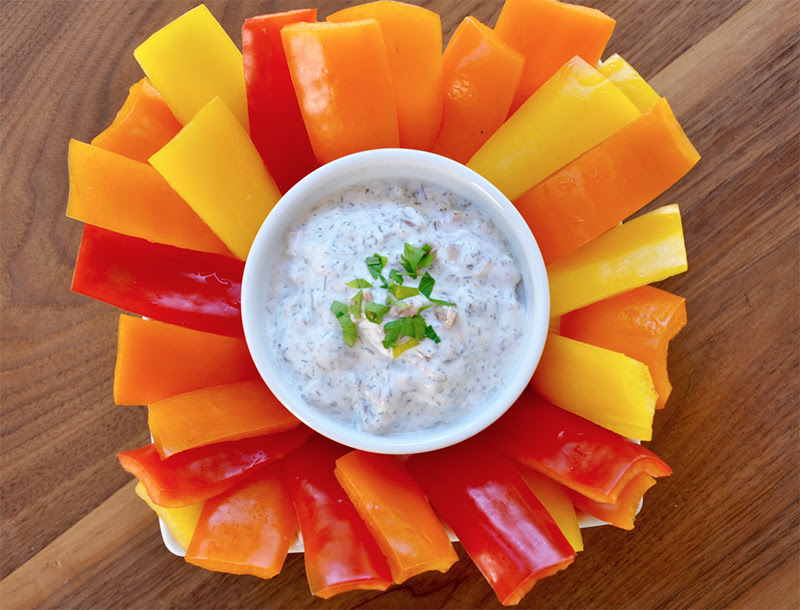 Here's a dip that is low in fat and high in muscle-building protein! How'd I do that? By using plain Greek yogurt and mixing in delicious, smoked salmon.
This dip is fantastic to serve with company, rather than chips and salsa. By slicing fresh veggies instead of using grain-filled crackers or chips, you'll be saving yourself the guilt while enjoying delicious, creamy and crunchy goodness! Enjoy!
Courtesy of RealHealthyRecipes.com
What you need
Servings: 4
1 cup Greek yogurt
4 oz. chopped smoked salmon
1 teaspoon dried dill weed or 1 Tablespoon fresh dill weed
4 Bell peppers, sliced
Instructions
1. In a medium bowl, combine ingredients and divide evenly. Serve with bell peppers.
Nutrition
One serving equals: 113 calories, 3g fat, 480mg sodium, 8g carbohydrate, 3g fiber, and 13g protein
I hope that you get a chance to give this recipe a try this week. Remember that I'm only a call or email away to assist you in all things fitness. And if you are not yet one of my prized clients then call or email me now to set up your first workout – I'd love to help you achieve your best body ever!
Talk Soon,
Let Us Be the Best Part of Your Day….Every Day!
Dusty Kinley
(253) 565-1965
https://innovativefitnessclubs.com/
"Innovative Dusty" on Facebook for daily truth and inspiration!​
---
Share this delicious healthy recipe by forwarding it to your friends and family! Click Here to share it on Facebook